Visit Tibet
Tibet, as long as the sight of these two words, the pronunciation of the two sounds, the heart will have a kind of sacred feeling. Renowned as the roof of the world, here you can see the highest mountain and deepest canyon in the world. Standing on the Tibet Plateau, you will feel it's the nearest place to the sky, you can see endless snow-capped mountains, enchanting turquoise lakes, century-old monasteries, glistening glaciers, as well as hundreds of pilgrims doing a Kora around the different sacred sites of Tibet, etc. So visiting Tibet is regarded as a once-in-a-lifetime experience for most tourists.
As a reputable local Tibet travel agency with more than 14 years of experience, we have summarized tips and advice about how to visit Tibet before you plan your Tibet trip.
Here are the main threads you may interest in this post
Necessary Documents Before Your Trip
According to the rules, There are several documents required to be processed before you visit Tibet. So, give yourself at least a 20-30 days leeway when you plan your trip to Tibet. 
First, you will need a Tibet Travel Permit which is mandatory for all foreign travelers to Tibet because you need to present t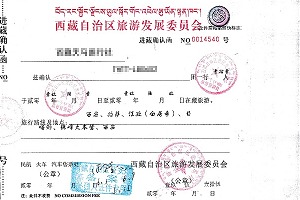 his permit when boarding a plane or train to Tibet Autonomous Region. The only way to get such a permit is to book with a local Tibet Travel Agency. The processing of this permit usually takes around 20 days, according to your destinations in Tibet. However, if you are going to Mount Kailash, getting the related permit takes at least 30 days.
You will also need to process a Chinese Visa if you get to Tibet via mainland China. Make sure you can process this visa a month before you travel to Tibet. As you apply for a Chinese Visa, you should refrain from stating the fact that you are going to travel to Tibet. Moreover, avoid indicating that you are a journalist.  And, Tibet travel Permit is the official document, which can't be expressed overseas. So please leave a few days to express it to your hotel in mainland China.
If you intend to visit Tibet from Kathmandu, Nepal, then you need China Group Visa instead of a Chinese Visa. Simply email us, and we will be more willing to facilitate everything for you. One more thing, you need to arrive in Kathmandu three working days before your Tibet trip for China Group Visa. 
When to Visit Tibet?
You can visit Tibet at any time of the year, yet there are months that are most suitable for tourist visitations. The best months to visit Tibet are from May to October, during which you can enjoy mild weather, warm sunshine, pure sky and a clear view of landscapes. Summer is the best time for photographers while autumn is the best time for trekkers. The downside, however, of visiting during these months is the larger number of tourists who flock to Tibet during these months.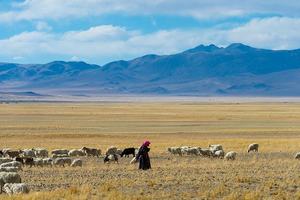 Thus, you may also consider touring Tibet during the low season to avoid the horde of visitors during the high travel season. Winter of Tibet owns strong sunshine, which makes the weather not as freezing as you imagine. Visiting Tibet in winter means fewer travelers, lower cost, and unique sceneries. Although some roads and scenic sites such as Mt.Kailash, lake Namtso, etc. in remote areas are blocked because of the snowfall, Lhasa, Shigatse (Everest Base Camp), and Nyingchi are always available during the whole year.
If you plan to visit Tibet in spring, it's highly recommended to have a trip to Nyingchi. Known as the "Switzerland of China", Nyingchi is blessed with mild weather and beautiful scenery. Especially when peach flowers bloom in spring, the famous Peach Flower Festival really worth a visit.
What to Prepare?
It is important that you keep yourself physically conditioned when you travel to Tibet. Tibet is no ordinary place to visit because it is around 4,000 meters above sea level. This means you are likely to experience altitude sickness which can be mild or worse. If possible, you can take some necessary medicines such as Nuodikang Capsules, Nifedipine, and Suoluomabao Capsules. Avoid catching a cold before you travel for it may surely compromise your travel.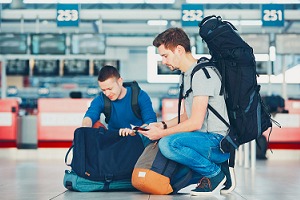 When you ride a train to Tibet, for example, you will be given a health waiver form that you have to fill out. This health waiver form requires you to divulge information about your pre-existing health conditions that may compromise your safety and health when you are already in the Tibet.
To avoid catching a cold, you also need to carefully choose the clothes that you will bring with you to Tibet. Bring warm clothes such as sweaters and jackets for even if it is summer, the temperature in Tibet may radically drop at night. And if you will visit Everest Base Camp, you should bring with you a heavy winter coat.
You should also never forget your sunglasses and sunscreen as well as your lip cream. You should also bring with you comfortable walking shoes because you would surely have steep staircases and paths to climb when you are in Tibet. Lastly, you should not forget your medicine kit as well as some snacks to munch in when traveling.
How to Get to Tibet?
Access Tibet is via mainland China (Recommended!)
Get to Tibet is by train is the most popular way. Since the Qinghai-Tibet Railway opened in 2006, traveling to Tibet is more convenient and flexible. You can board the train from Xining, Xian, Chengdu, Chongqing, Beijing, Shanghai, and Guangzhou. Train travel from these cities takes  21 to 52 hours. Hence, you will be staying on the train for a couple of days before reaching Lhasa. This train travel, however, will surely allow you to see s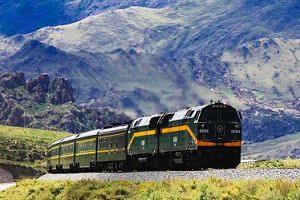 ome of the most scenic sites of the world, especially, the landscapes from Xining onwards - the start point of Qinghai-Tibet plateau. You will see the breathtaking scenery of snow-capped mountains, crystal lakes, peaceful pastures, huge wilderness, and blooming flowers. The train is equipped with modern facilities, such as the oxygen system. Travel to Tibet by train will also offer you a lower risk of suffering from altitude sickness because you can accommodate to the altitude little by little.
For a more comfortable and time-saving journey, you also can get to Tibet by plane. In major cities in China,  you have many options for domestic flights to Lhasa. There're direct flights to Lhasa from major gateway cities such as Chengdu, Xián, Chongqing, Kunming, Beijing, etc. You can check the flight schedules and choose the flight which meets your requirements.
Access Tibet via Kathmandu
There is only one international flight to Lhasa and that flight is coming from Kathmandu, Nepal. Traveling to Tibet by flight will enable you to see majestic Mt.Everest if you happen to sit on the left by the window. You can also travel to Tibet from Nepal via land travel. In this way, you can witness the beautiful scenery of the Sino-Nepal highway.
What to See in Tibet?
Tibet showcases a blend of both cultural and historical sites and natural wonders. So, you will see in Tibet both awesome historical structures from the past and tantalizing natural wonders that are untouched in their pristine beauty. Here are the best places that you should visit in Tibet:
Lhasa City: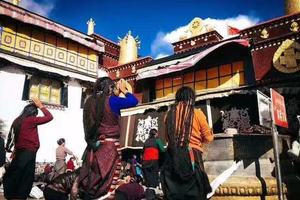 Potala Palace—The winter palace of Dalai Lamas is a majestic structure that comprises of around 1,000 rooms and many other artifacts and scriptures, mandalas, paintings, stupas, and many more.
Jokhang Temple—a 7th-century temple in the very heart of Lhasa that houses the world-famous Shakyamuni Buddha, a statue of a 12-year old Buddha.
Sera Monastery—One of the largest and most popular Buddhist monasteries in Lhasa. It consists of three active colleges wherein monks study Buddhism. You'll see here how monks debate about philosophical and theological ideas.
Drepung Monastery—once the largest Buddhist monastery in the world with more than 10,000 monks inhabiting the place. You'll need a day to completely see the whole place.
Barkhor Street—Lhasa's main street. You'll see thousands of pilgrims walking around it. It is the street that surrounds the Jokhang Temple. You'll see stores, local tea houses, restaurants, and small temples along this street.
Norbulingka—is the summer residence of the Dalai Lamas. It is surrounded by a magnificent park.
Everest Base Camp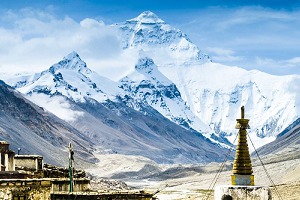 The Everest Base Camp (EBC) is a Tibet's tour highlight simply because it lets you view the highest mountain in the world in all its majesty. Tourists visit this place because they feel so close to Mount Everest. They also want to get a feel of how to be literally at the very top of the world.
This scenic route affords you an awesome view of the Tibetan wide plains planted with lime-green barley, turquoise lakes, snow-capped mountains, ochre stupas, and rural villages. The best stops along this route include the Yamdrok Lake, the Karo-La Glacier, and the Gyantse Fort. 
Where to Eat in Tibet?
Well, you should not expect something like Haute cuisines or gourmet in Tibet. So, you need to lower down a bit your expectations and try the best of what Tibetan cuisines can offer. Tibetans once subsisted on Tsampa made from barley flour with butter tea. Yet, with the coming of more tourists, you can now find Chinese dishes and other restaurants that serve non-indigenous cuisines.
You'll find tea houses too in Tibet. These teahouses usually serve dishes like Tibetan noodles and vegetables with rice. They also serve "yak momo"—a typically steamed dumpling that comes with yak meat. You'll also get to eat in restaurants that serve international dishes when you are in Lhasa. For your convenience, you may check out these restaurants: Tibetan Family Kitchen, House of Shambala, and Po Ba Tsang Restaurant.
Where Should You Stay in Tibet?
Your travel agency, if it is good, will surely facilitate everything for you, including your accommodations, so you will have no tro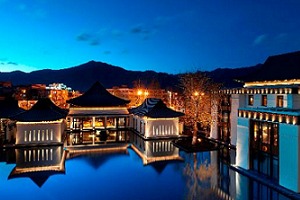 uble or any problem with your accommodations. You'll be provided with hotels that will provide you with the necessary amenities and luxurious and convenience. So, basically, if you choose a great travel agency, you can have peace of mind and you need not worry about where you are going to sleep.
Of course, there are known hotels in Tibet that are frequented by tourists and travelers. Here are some of these popular hotels: House of Shambala, Lhasa GangGyan Hotel, St. Regis Resort Lhasa, Tashi Choeta Boutique Hotel, Shangri-La Hotel, Lhasa, Jardin Secret Hotel, Lhasa, New Century Hotel VIP Building Lhasa. At Shigatse, there are the Subei Grand Hotel Shigatse and the Mullenlazone Shigatse Hotel,
How Much Would It Cost?
Traveling to Tibet is not cheap. The cost may vary depending on how much time you will spend in Tibet. If you intend to have a week-long tour, you could expect to spend more than $900 for your accommodation, tour guide, and documents.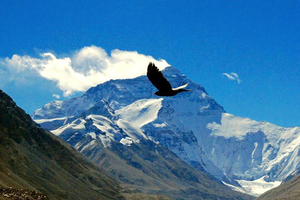 Most tour packages are within that price range and these tour packages basically include everything that you will need to complete a tour, including accommodations, transportation expenses, daily breakfasts, entrance tickets, and tour guide fees.
The cost of touring Tibet generally changes from season to season. Summer is the most expensive season and winter is the cheapest time. The perks of traveling in winter include the many things that are discounted during winter. Train tickets, for example, are less expensive and hotel accommodations are cheaper. In summer months, however, the number of travelers increases drastically; hence, the prices of everything increase due to high demand.
You need to pay in advance for the pre-booked tour. You don't need to pay for the Tibet Travel Permit because it is already included in the tour package payment. However, some travel agencies usually charge a fee for the processing of the Tibet Travel Permit. You will also need to pay for the processing of a Chinese Visa, flight tickets or train tickets, etc. Here is a rundown of the cost of processing a Chinese visa in different countries:
Australia AUD 109.50
Canada CAD 142.00
France EUR 126.00
United States of America USD 140.00
You can save on your travel expenses if you travel by train from mainland China to Tibet as compared to plane travel. Train fares, however, vary depending on which city you will depart from. If you choose Xining, for example, you will get a fairly less expensive ticket with the lowest price at starting at US$74(net price); while if you are coming from Shanghai or Beijing, you will pay more for your ticket.
Related articles