by Nance
Last Updated: 2020-01-03
The beauty Tibet has to offer is just incomparable. With plateau-climate and picturesque locations, the place offers to be a perfect tourist destination.
Decide what's time to travel to Tibet is an important question. There is no clear answer when is the best time to visit Tibet. When you want to travel to this magnificent place, it depends entirely on your interest, or what you want to see and to do. In fact, Tibet can be visited at any time of the year, but at certain times of the year is better than other time.
Best places to visit in Tibet in the season of Winter:
Lhasa, the City of Sunshine
Shigatse, a Hot Tourist City
Mt. Everest, the Peak of Heaven
Best places to visit in Tibet in the season of Summer:
Namtso
Mt.Kailash and Lake Manasarovar
Here are the main threads you may interest in this post
Best Time to See Mt. Everest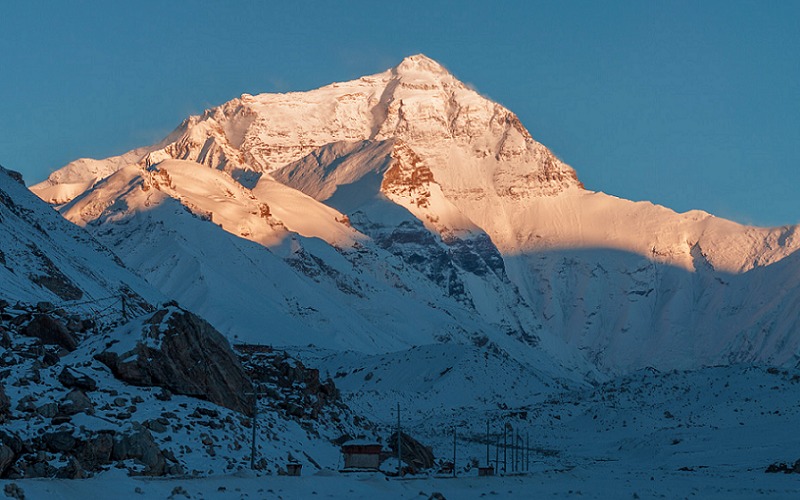 The golden summit of Mt.Everest.
For those who are attracted by the majesty of Mt. Everest, then the best chances of seeing the Peak of Heaven in the clear skies are in the months:
January until the mid or end of February
April to June is a suitable period
Mid-September through December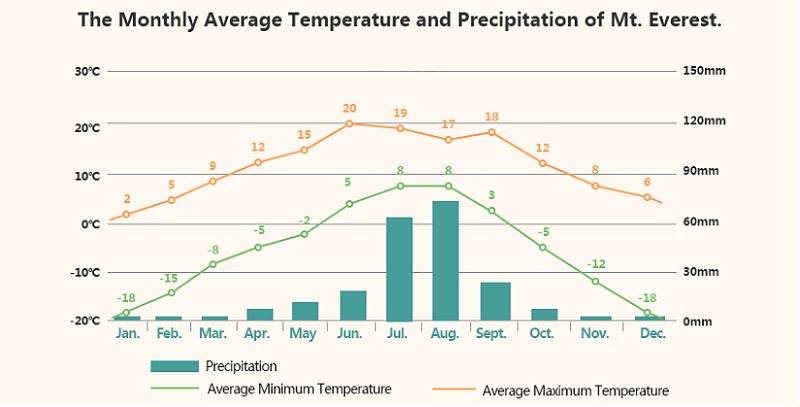 A colder climate with a usual clear sky is experienced in January & February across Tibet. A great amount of snowfall is experienced in these months. However, till the time you don't forget to take all the essentials for that weather, you'll not experience any trouble. 
For some clear and great views of the mountains, April through early June is perfect. Comparatively, the weather is a lot warmer in April.
The period from June until the end of September witnesses a good amount of precipitation. Thus, totally lower your chances of having a pure view of Everest or any other peaks. Sunrises & sunsets can help you get a clearer sight of the peaks. However, in the daytime, clouds often block the view.
September to December most of the time have clear skies, but the temperature drops to quite an extent. Mid October marks the end of the tourist season in this heavenly place. However, this also implies that the month of November is considerable too when planning a trip to Tibet.
Tibet is closed for tourists starting the month of February. The closing period continues till the starting of April every year.
>> See More Everest Base Camp Tour
Best Time to Trek to Mt. Kailash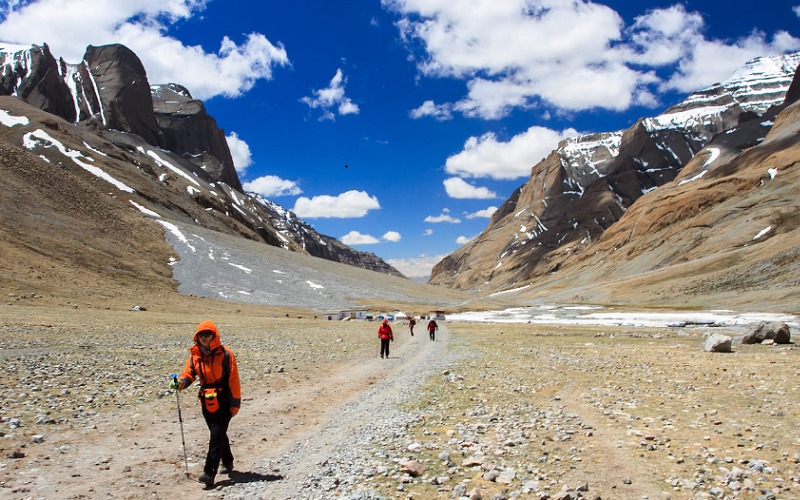 Trek around Mt. Kailash.
Trekking around Mt. Kailash is one of the most popular itineraries in Tibet. From May to October is the best time to trek around Mt. Kailash. From July to August, Mt. Kailash area is drier than those regions in Lhasa. Meanwhile, thousands of pilgrims from India would go to Mt. Kailash during this period. So in July and August, the route to trek around Mt.Kailash may be very busy, I suggest that you avoid these months. Usually, small hotels and teahouses near Mt. Kailash will be closed in late October or earlier November because of the cold weather and heavy snow. Therefore, fewer travel agencies will arrange Mt.Kailash trekking in mid-October.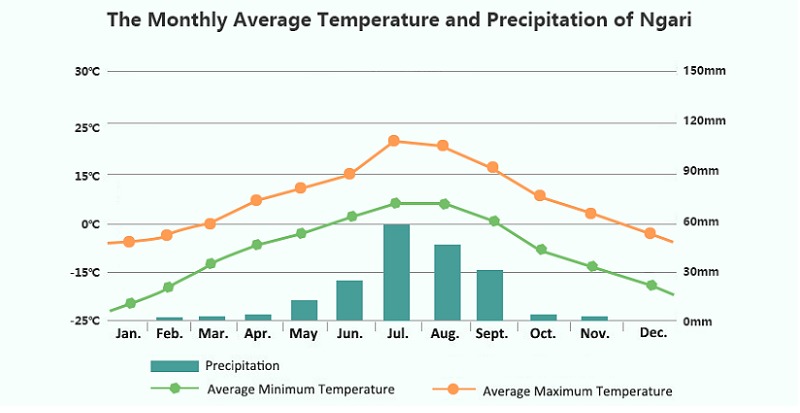 Best Time to Experience Tibet Culture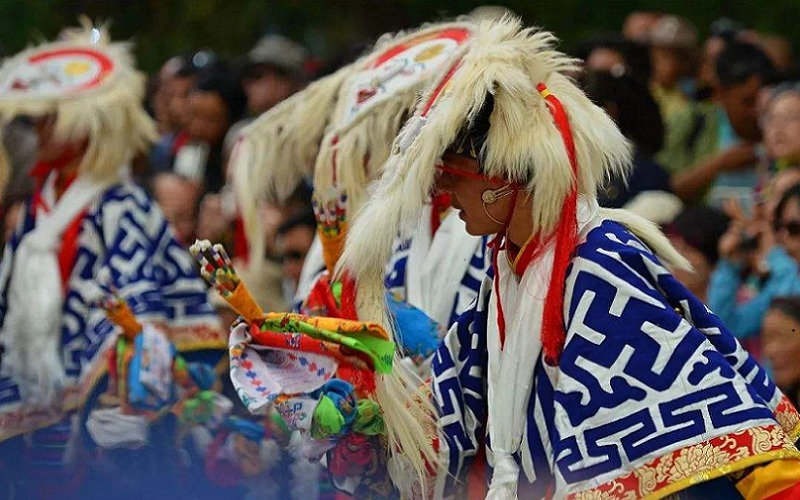 During the Shoton Festival, you will see more about Tibetan Buddhism and culture.
If your wholesale reason to visit Tibet is to see their nomadic culture then June through early September would be the best choice. There are several big festivals meanwhile, such as Saga Dawa Festival in Jun, Samye Dolde in Jul, Shoton Festival in Aug, etc.
These summer months let you see nomads who are on the high grasslands with their sheep and yaks. These months undoubtedly bring some clouds & rain. However, to see their culture, no other month would be as appropriate as for June and all the way to September. Tibet people are very glad to invite you to attend the celebration. It's a time to experience Tibet folk custom and Buddhist culture.
>> See more Tibet Cultural Tour
Best Time to Go Trekking
The trekking season in Tibet is from late April through late October, out of which the most suitable months are:
Starting of May until the end of June
Early September through late October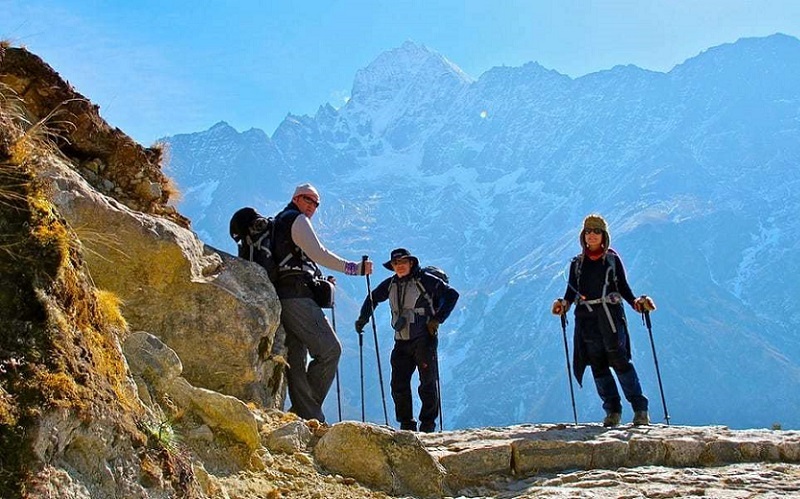 Have a stop and enjoy the scenery on the way!
These months give you good views of the mountains along with the ideal conditions for trekking and camping as it is generally dry during this period. Trekking in the summer months is not advised as it will rain in these months at least 3 times per week. There will be a cloudy sky, and you'll not witness any clear skies during the daytime. Proper trekking equipment and clothing can make your trekking time delightful and hassle-free.
>> See more Tibet Trekking Tour
Best Time to Be a Part of The Tibetan Horse Festival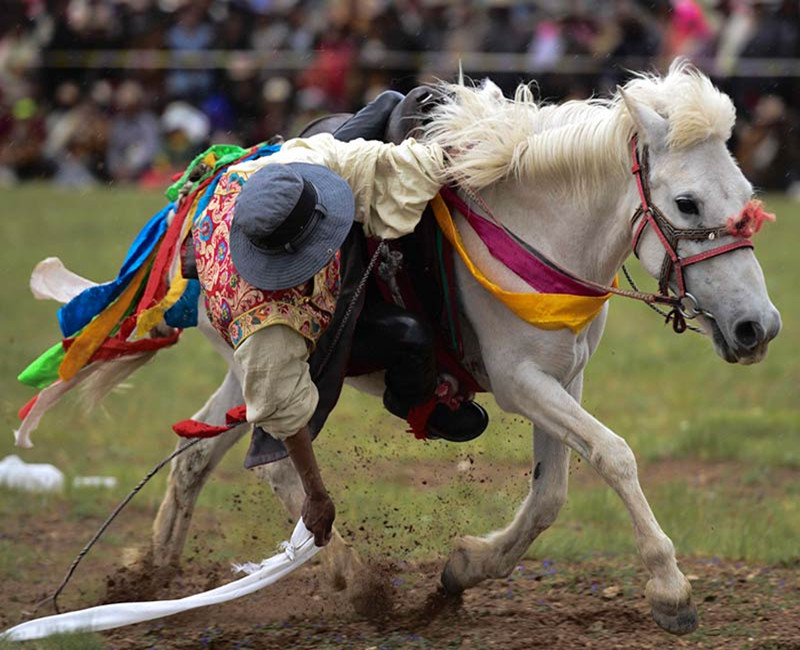 A wonderful moment of the Horse Racing Festival.
The Horse Racing Festival is an important part of Tibet culture, especially the daily life of people in Tibet. Horse Racing Festival is the most distinctive holiday in Tibet especially in the pastoral areas of Tibet. From July to August, it is the most beautiful season in grasslands with lush aquatic plants, so Horse racing festival will be held in these months.
It usually lasts about 10 days. At present, the influencing horse racing festivals in Tibet are Nagqu Horse Festival (around August ) and Gyantse Horse Race (around July). On the eve of the horse racing festival, thousands of herdsmen wear colorful costumes, riding horses to go to the horse racing festival. Around the racetrack, a tent village was pulled out in the twinkling of an eye, and the grand horse racing festival suddenly brought a spectacular, fully functional tent city to the prairie. The whole event can be divided into two major categories: horse racing and horse riding skills. In the evening, the herdsmen will ignite a pile of the bonfire in the prairie, staying around the flaming fire, singing and dancing happily.
>> See more Tibet Festival Tour
Visiting Tibet in Winter
Excluding some places like Namtso Lake, Mt. Kailash and some trekking routes, all other destinations in Tibet can be visited in the winter. Finding tourists during that time is quite impossible. However, one can definitely visit in the wintertime without any issues.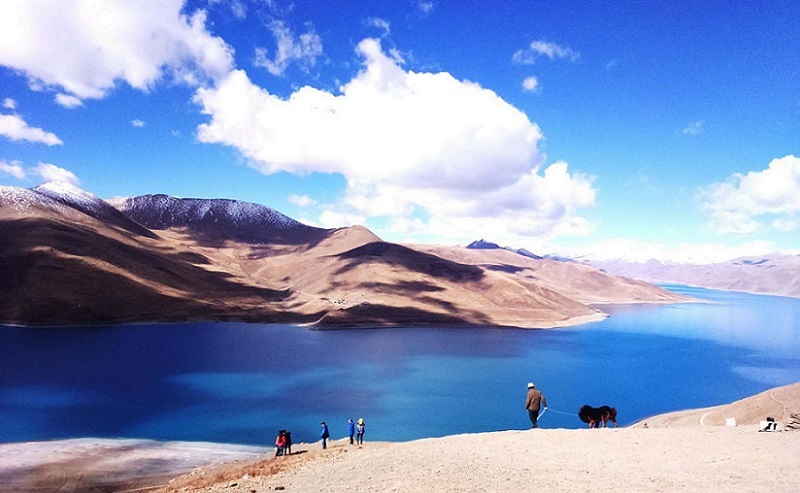 Yamdroktso Lake in winter.
Note:
From February to March, most of the Tibet area is closed to foreign travelers, because February and March are sensitive months for Tibetans. Tibet travel permit usually stops from the beginning of February. Tibet will reopen from early April.
SUMMARY:
The most suitable time for your visit to Tibet is based on the reason for your visit.
January- February, April- May and then October- December is considered to be the best months to see the Everest clearly.
June to September is the ideal period for seeing Tibetan nomads. One can see the nomads of Tibet on the grasslands. If you visit during the month of June, this will definitely be the highlight of your visit.
The perfect months for trekking in Tibet are April through late October.
The major parts of Tibet can be traveled around even during winters.
Tourists find Tibet closed during which people cannot visit the country. This is during early April.
Related Articles & Posts
Ask a Quick Question Below? Or Call 0086-891-6679450