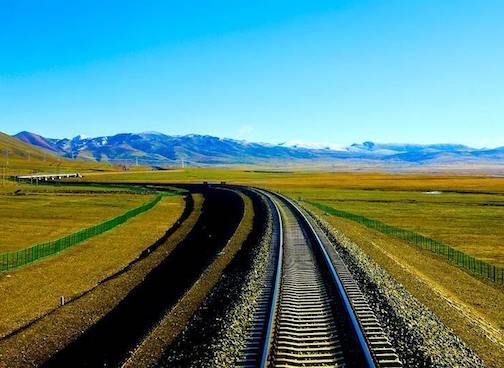 There was no direct train for tourists to travel to Tibet until the construction of Qinghai - Tibet Railway in 2006. The number of tourists traveling to Tibet is increasing year by year. Here are three main reasons for travelers to take a train to Tibet.
 
Firstly, Qinghai - Tibet railway is regarded as the engineering wonder. Built in 2006, Qinghai - Tibet Railway is the highest railway in the world. The construction of the railway was hard for engineers, even some international experts asserted that there was no possibility for Chinese engineers to finish the project. When the railway was opened to the public, it was famous for all over the world because it had overcome three major difficulties including the frozen earth, high altitude sickness, and the fragile ecological system. From that time on, traveling to Tibet by the Qinghai - Tibet Railway has become the lifetime dream for tourists from home and abroad.

Secondly, the charming scenery along the railway attracts thousands of travelers. The most beautiful section along the railway is from Xining to Lhasa. You must be stunned by the snow-capped mountains, tranquil lakes, boundless grasslands, etc. There are some famous attractions which you can't miss including Tibetan Antelope, Dominating Tanggula Mountains, Blue Diamond - Tsonag Lake, etc. Although it is slower than a flight, it is a profound journey to explore the natural beauty of Tibetan Plateau.

Thirdly, compared with flying to Lhasa, taking a train to Tibet costs less. That's why many budget travelers choose to get to Tibet by train.

At present, travelers can take the direct train to Tibet from seven Chinese gateways, including Beijing, Shanghai, Chengdu, Guangzhou, Chongqing, Lanzhou, and Xi'ning. Besides these cities, the train will stop in some cities like Nanjing, Xian, Taiyuan, etc. You can also board the train in these cities.
Tibet Train Ticket Tip
Because of the great demand for the train ticket, you should book the train ticket in advance, especially in the peak season.