There are many questions for foreigners to figure out before traveling to Tibet. Such as, when is the best time to visit Tibet? Or, what should I pack for a Tibet tour? Among all the different matters, the concern about altitude sickness must come out firstly in most of the travelers' minds. So, what is high-altitude sickness? And how to deal with altitude sickness when traveling to Tibet?
Let's solve them one by one.
What is high-altitude sickness?
As the name implies, altitude sickness is a series of physical discomfort when someone gets to a place with a high elevation, usually 2,700 meters (8,859 feet) and up. The average altitude of Tibet is more than 4,000 meters (13123.36 feet), so especially for those who live on the plain and get used to a low altitude, it's not easy to accept the sudden change of the elevation, where the content of the Oxygen in the air becomes much lower and the weather turns to extremely dry.
What are the symptoms of getting high-altitude sickness?
Headaches, fast heart beating, loss of appetite, difficult to breathe are mild symptoms when someone is getting altitude sickness. And they may always feel thirsty, dizzy, or tired, hard to fall asleep or could not sleep well at night, etc. The symptoms usually will disappear within one or two days, which varies with different individuals.
Who cannot travel to Tibet?
Usually, if you are healthy, there is no problem for you to visit Tibet. But people who have cardiovascular or respiratory disease are not suggested travel to Tibet. For mild heart disease, please check with the doctor and do follow professional advice.
How to deal with high-altitude sickness when traveling to Tibet?
Firstly, you should take it easy, don't be freaked out by altitude sickness, let alone stop your Tibet tour plan because of it. We should have a right understanding of altitude sickness. It's hard to avoid it because the average of Tibet Autonomous Region is over 4,000 meters (13,124 feet). And the most popular tourist attractions like Everest Base Camp, Namtso, Mt. Kailash, are around 5,000 meters (16,405 feet). According to our over 12-years' Tibet tour experience, nearly 90% of travelers will overcome altitude sickness after the beginning of two or three days.

Tips: You can try to take some exercise to keep your body in good. Get enough sleep and avoid catching a cold before traveling to Tibet. If you catch a cold, unfortunately, please contact your tour agent and postpone the trip.

The first stop of your Tibet tour is normally Lhasa. Not only because it's the capital city of Tibet where there are rich tourist sources, such as the world-known Potala Palace, Jokhang Temple, Barkhor Street, etc. but also for the relatively lower elevation. With an elevation of 3,650 meters (11,975 feet), Lhasa is no doubt to be the perfect place for you to have sufficient rest and get adapted to the altitude change before launching the next destination with a higher elevation.

Tips: It's vital to have a good rest in the first two or three days of your Tibet tour. After transferring to the hotel on the first arrival day, it's better to rest and do not take a bath to keep from catching a cold. If you could not help going out, try pack light and strollwalk slowly. For a good sleep at night, please do not overeat at dinner. And you can use a high pillow to make sure your head is higher than the body, which is an excellent way to help you breathe. Even if you didn't feel any uncomfortable when you get off from the airplane or train, it doesn't mean you will be good later. So, please keep the tips in mind.

During the whole trip, please always pay attention to the weather change. As you know, the temperature difference between daytime and night in Tibet is quite big. You may wear a T-shirt in the afternoon while wearing a down jacket in the evening. Thus, please prepare the necessary winter clothes even if you are traveling to Tibet in summer.

Regarding the food, please eat those easy to digest. And eat less food bought from the unlicensed vendors, which may cause gastrointestinal disorders. Do not drink alcohol or smoke, or as less as possible. If you can take good care of yourself, the risk of getting high-altitude sickness will greatly decrease.

Prepare useful medicines. If you travel a lot, you will know what medications to prepare for a normal trip. But if for a Tibet tour, please bring some necessary medicines for curing high-altitude sickness. You can ask for help from your doctor before visiting Tibet. Nuodikang Capsules, Nifedipine, and Suoluomabao Capsules (known as Hongjingtian Capsules in Chinese) are the most common drugs for high altitude. Hongjingtian can be taken two or three days prior to the tour starts for prevention.

If you don't feel any better after taking medicines, please do contact your tour guide and go to the hospital. Don't underestimate the harm of altitude sickness. The worst case is getting a fever, which may cause death.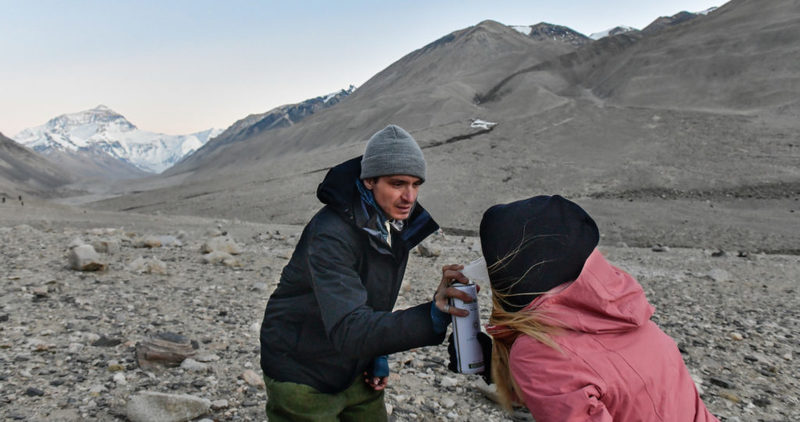 We only meet 1 or 2 clients going to the hospital due to the altitude sickness among thousands of travelers of all ranges of conditions. So the data is less than 1%.
To sum up, the high-altitude sickness is not horrible but could be defeated as long as you follow correct guidance. Above all, you need to engage with a reliable Tibet tour company to make sure your Tibet travel interesting and safe. A good tour operator will take responsibility for your physical health and mental satisfaction. Great Tibet Tour is exactly the one. As a local Tibet travel agency, we know Tibet well and arranged thousands of Tibet tour for foreigners since 2005. Besides the handpicked itineraries, we also do our best to make sure our clients complete the tour smoothly. We always have the Oxygen tank & some medicines in the vehicle for emergency use. Meanwhile, our experienced Tibetan guide will take measures according to different circumstances. And we will send you to the hospital if you are not feeling well.
So, contact us for a dreaming Tibet tour now!
Related Articles & Posts
Ask a Quick Question Below? Or Call 0086-891-6679450