By the law of the People's Republic of China, in addition to Chinese visa, foreigners also need Tibet Travel Permit / Tibet Entry Permit / Tibet Visa to be able to board a train or plane to Lhasa. For this, you need to pre-arrange an itinerary through a legal travel agency in Lhasa before arriving in Tibet. Everything must now be arranged beforehand, and tourists can't travel to Tibet alone.
Here are the main threads you may interest in this post
You also need other permits to continue traveling throughout Tibet, eg. Alien's Travel Permit & Military Permit, and you can currently only get these by hiring transportation and a guide as part of your itinerary.
If you plan to enter Tibet from Nepal, besides all the Tibet Permits, you will have to apply for China Group Visa, which can only be obtained through the joined effect of travel agencies in Lhasa & Kathmandu. Even if you have already got your Chinese Visa, it should be turned invalid.
Here at Great Tibet Tour, a Lhasa-based local travel agency, with all the advantages of a local company, we provide you with a worry-free Tibet travel experience by taking care of all these permits applications. Here's a brief instruction about Tibet Travel Permit.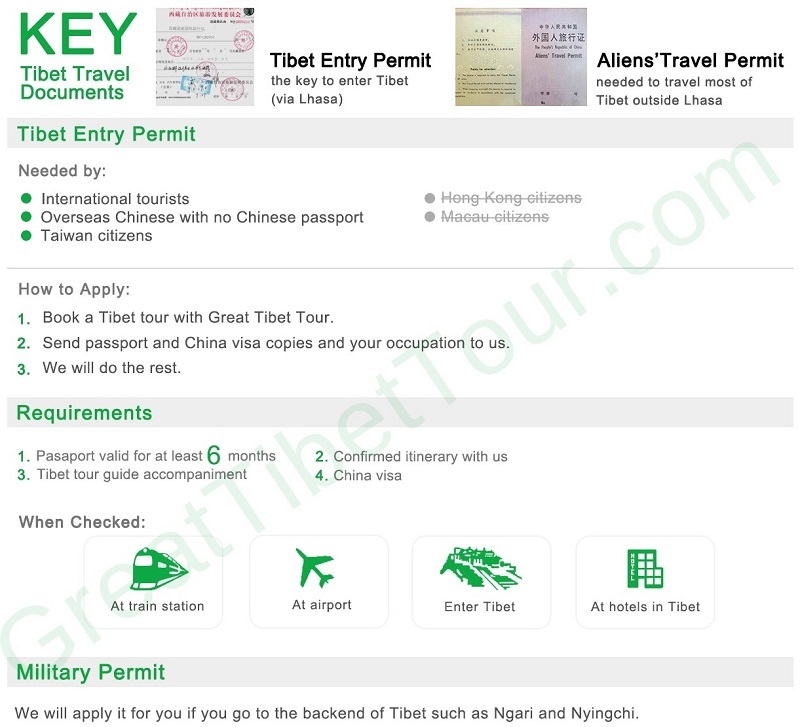 Easy to tell what's needed for Tibet Travel Permit from this graphic instruction.
What Do We Need to Apply for Tibet Travel Permit?
Nowadays, you can only get a Tibet Travel Permit(hereinafter to be referred to as TTB permit as it's issued by Tibet Tourism Bureau.) through a local travel agency then get to Lhasa. We need the following documents & info from each traveler to obtain a Tibet Travel Permit. The time needed to apply for it changes irregularly. But we usually need at least 16 days prior to file the application with these documents & info. Tibet Tourism Bureau will issue a TTB permit about 20 days or so prior tour starting date.
* Colour-scan/photo of the valid passport photo page.
* Colour-scan/photo of valid Chinese visa page.
(except L Visa, tourist visa, any other types of Chinese Visa need additional stamped paper in Mandarin from your school/company in China, in which your name, passport No., position, company add should be stated.)
* From which city of China you plan to enter Tibet & which city of China you plan to depart to after your Tibet tour.
(please be aware, entering/departing city will be print on your permit, once issued, it would be the only city you be able to enter/depart. takes extra time & fee if later you want to change it)
* Job occupation. If currently unemployed or retired, please let us know your previous job.
(journalists, government officers, and  professional film/photography team, etc. won't be able to travel Tibet through a travel agency) 
* Confirmed tour itinerary with every detail.
Note:
A Chinese resident of Hong Kong & Macau does not require a TTB permit to enter Tibet;
Taiwanese need to consult us case-by-case since the rules change often;
Foreigners visitor on business/study/resident visa in China need additional docs to apply for TTB permit;
Journalists and embassy staff won't be able to get a TTB permit as a tourist.
What Does TTB Permit Look Like?
TTB Permit usually combined with two pages(you may check the image below).
On Page 01, it states your tour details, such as your travel agency's name, your tour number, when you first arrive in Tibet, when you depart, entry & departing city, etc. but above all, check the Permit No. on the upper right corner which is printed in red by Tibet Tourism Bureau.
On Page 02, you will see your name(printed in Chinese way, family name + given name)/ nationality/ gender / passport No. / profession / date of birth.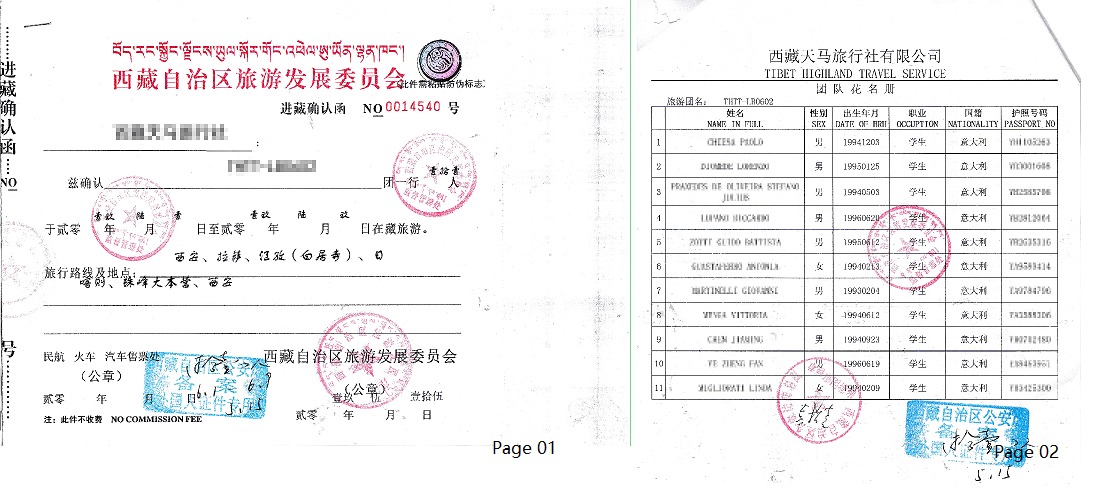 Your itinerary, entry city, departing date will be added on page 01. Your passport info will be added on page 02. All info should be exactly matched.
The Cost of The Tibet Travel Permit?
In fact, according to the regulation in the Tibet Tourism Bureau, the application of the TTB permit is free. However, it's understandable if some Tibet travel agencies charge service fees for applying TTB permit for users cos they need to put manpower to prepare your document, hand in the application, pick up and express your TTB Permit to your hotel in China.
Currently, online application for TTB permit is not applicable. So the only way to get Tibet Travel Permit is through a Tibet Travel Agency by booking a tour. When they help you apply for the Tibet Travel Permit, usually, the cost of Tibet Travel Permit is included in your group fare cos tourists cannot get any Tibet Travel Permit without a tour.
Which City Can I Get To Tibet With The Tibet Travel Permit?
There are two main ways for travelers to get to Tibet - by train or by flight. No matter which way you choose, you are required to board with your TTB Permit. Book your Tibet Tours in advance then take your TTB permit for boarding the trains or flights departing from Beijing, Shanghai, Chengdu, Xian, Xining, Kunming, Kangding, Labrang (Xiahe), Shangri-la, Kathmandu, etc.
You can book your train or air ticket to Lhasa or have Great Tibet Tour arrange this for you.
You need to have the original TTB permit in your hands to board a flight to Lhasa. Mostly we arrange a TTB permit to post to your hotel of your entry city in China by S.F Express, which usually takes about 2~3 days. So arranging an address in your entering city before Tibet (e.g., hotel) is necessary to receive your posted TTB permit if flying to Lhasa.
A photocopy or scan of an original TTB permit is currently required to board a train to Tibet in majority cities. If you take a train from Chongqing, Xián, or Lanzhou, you also need to take your original TTB permit.
When Will The Tibet Travel Permit Be Checked?
As the primary permit needed in Tibet, Tibet Travel Permit will be checked at the following places,
Your last destination before Tibet

The checking points to Tibet

Gyirong Port (enter Tibet from Kathmandu by overland)
Lhasa (enter Tibet by flight or train)
Tuotuohe (enter Tibet from Amdo area by overland)
All the hotels in Tibet before you check-in

All the major attractions like Potala Palace, Jokhang Temple, Everest, Kailash, etc.
When And Where Should I Get The Tibet Travel Permit?
The process for applying for your TTB permit from Tibet Tourism Bureau lasts about 20~30 working days, according to your destinations in Tibet. After getting your permit, your travel agency will express it to your hotel in China as soon as possible.
If you fly to Tibet, you should take the original PPT permit to board the flight.
If you take a train to Tibet, you just need to take a copy of your TTB Permit.
Note:
If you are taking a Tibet train from Chongqing, Xi'an, or Lanzhou, your original PPT permit is required.
In some emergency cases, you will get your Tibet Travel Permit within 4 ~10 days with extra charge.
If you transit flight and have a short stay at the airport instead of accommodating in a hotel, we will ask the local agent to deliver your PPT permit to your hand.
Some Extra Tips About Tibet Travel Permit
You should send your unfeigned, effective, and related credential passport, personal information to us, which is the prerequisite for us to apply for Tibet Travel Permit. Before booking your air ticket, you should promise that you have the Tibet Travel Permit.
Sometimes, your Tibet Travel Permit application will be influenced or delayed when some political affairs happened. So travelers should consider this political factor when traveling to Tibet because we can't guarantee when it occurs. But the chance is rare, and you'd better check the official news.
Other Permits: Alien's Travel Permit & Military Permit
With TTB permit, you will be able to enter Tibet and travel to Lhasa and around, but if you were to go further to the regional capital, eg. Mt Everest, etc., you will have to budget an hour or so in Shigatse for your guide to process the Alien Travel Permit, which is issued by the Public Security Bureau(PSB). Usually, you can apply for it once you arrive in Lhasa.
Sensitive border areas – such as Mt Kailash, the road to Kashgar, and the Nyingtri region of eastern Tibet – also require a Military Permit. 
You should give your agency 12 working days or so to arrange your TTB permit, 30 working days if Military Permit. The authorities generally won't issue permits more than 30-day in advance, and certain areas can be closed without warning, so you'll need certain flexibility if headed off the beaten track.
Alien's Travel Permit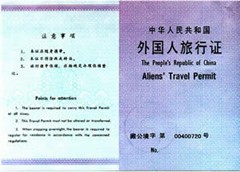 In addition to a TTB permit, if you were to visit certain areas, Alien's Travel Permit will be required. Unlike the TTB permit, which will be applied in advance without your original passport, Alien's Travel Permit will be applied after your arrival in Tibet with your original passport.
Areas require Alien's Travel Permit:
Tsetang: all the places you will visit, such as Samye, Yumbulhagang, Trundruk, etc.
Shigatse: Sakya, Mt. Everest, Rongbuk Monastery
Gyantse: Pelkhor Chode Monastery, Kubum Stupa
Ngari: all the places you will visit, such as Mt. Kailash, Lake Manasarovar, etc.
Nyingtri:  all the places you will visit, such as Draksumtso, Pomi, etc.
                                                                        Chamdo: all the places you will visit, such as Chamdo, Riwoche, etc.
Military Permit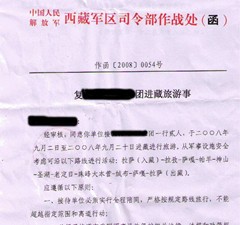 Military Permission is required if you want to visit the border areas such as Mt Kailash, eastern Tibet, or overland tour to Tibet from Sichuan, Yunnan, Xinjiang, and Qinghai.
Areas require Military Permit:
Ngari: all the places you will visit, such as Mt. Kailash, Lake Manasarovar, etc.
Nyingtri: all the places you will visit such as Pomi etc.
Chamdo: all the places you will visit, such as Chamdo, Riwoche, etc.
Overland from/to Sichuan, Yunnan, Xinjiang or Qinghai
Let us help you apply for your Tibet Travel Permit. Or call us at 0086-891-6679450.